Business VoIP
In this section
Sign up nowTier One Design and Soho66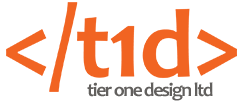 Tier One Design have teamed up with Soho66 to offer their customers a set of outstanding communications offers.
Tier One Design are a Midlands design agency that provides nationwide services from our Tamworth office. Our website design services are a refreshing combination of highly competitive pricing, simplicity-driven content management and shopping cart systems yet with a highly professional-grade graphic design and most of all...Genuine Enthusiasm . Whether you need a new website, app or bespoke software, if you provide us with an outline of your project we shall provide a no-obligation quote and concept art for you before you pay us a penny. Once the website or programming job is completed, we also offer support and other follow-up services (SEO, PPC, Google Products etc) to ensure the best possible user experience. When it comes to trusting a company with your design and programming projects, you need to select a business with the experienced web designers, coders and support staff to back up their promises, which we firmly believe we can.
Here at Soho66, we provide communication services for startup compaines, SME (Small to medium enterprises) and sole traders.
Click on any of the boxes below to find out more about what we can do for you.
Business Voice over IP (VoIP)
Voice over IP (VoIP) lets people make telephone calls via the internet. VoIP converts the voice signal from an ordinary telephone into a digital signal, which travels over the internet, and then converts it back. With our VoIP service customers can make and receive calls UK and worldwide through the internet.
Reduce your operating costs
Receive calls on a UK number wherever your office is in the world
Get started quickly, with little or no capital outlay
Enable teleworking and home offices
Engage new technologies such as voicemail to email , fax to email and follow me technology
Almost every UK city area code available as well as non geographic (0333, 0845 numbers)
All from just £2.99 per month
Fax to email
With our fax to email service, you can send and receive faxes using nothing but your email.
No need for a fax machine
No need for a fax line
Send and receive anywhere in the world
Almost every UK city area code available as well as non geographic (0333, 0845 numbers)
All from just £2.99 per month
We also provide enterprise and carrier grade services for those larger companies that would like to work with a trusted provider.