Customise your greetings messages to give your business a professional image.

There could be many reasons for you wanting to use audio files on your account. It could be for the Call Director service, Voicemail or Out of Hours Call Routing. Whatever the reason may be, they are uploaded in the same way.
This allows you to present your business in exactly the way you wish, that is befitting to the image you want to present to customers when they call you.
With Soho66 you have the flexibility to either record your own audio, pick from our range of standard prompts or order personalised prompts via our professional voice artist.
Best of all, setting it up takes no more than a few straightforward steps in your web based Control Panel.
Step 1: Do you have your audio file ready?
If you do not have an audio file for your purpose, we can have one ordered for you using our professional voice artist. They cost £20 for up to 25 words and then £1 thereafter.  If you already have your file, you will need to make sure that it is either a .wav or .mp3 file as this is the format our system accepts.
Step 2: Uploading your audio file
To upload your file, log in to your Soho66 account and click on "My Audio files" and enter the information it asks for. You must give your file a name – this can be anything you wish. Choose your file and tick the terms and conditions box.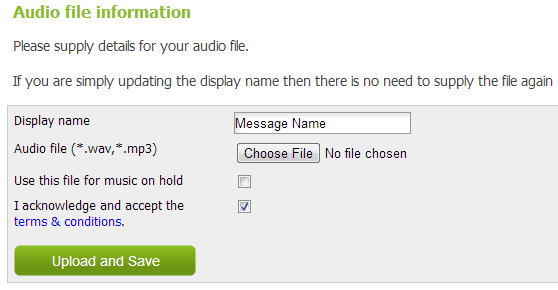 Step 3: Using Music on Hold
Music on hold is basically what it says, it will replace the music on hold that we have by default and replace it with your music file. This could be an advertisement perhaps or just generic hold music. Either way, when uploading your music file as in the previous step, make sure that "Use this file for music on hold" is selected and this will overwrite our default files.
Want more information?
Contact Support for more information on any of the features highlighted in this article.
Tel:

03333 443 443

Email:

support@soho66.co.uk