Business VoIP
In this section
Background
Soho66 is a trading name of Pebbletree Limited. Pebbletree was founded in 2005 and has been providing communications solutions to businesses ever since.
Established in 2008, Soho66 has grown year-on-year and serves tens of thousands of business customers across the UK, Ireland and internationally. Our self-built platform, developed in-house, handles hundreds of thousands of calls per day.
Our reliable and easy-to-use solution helps businesses bring their telecommunications into the 21st Century, enabling newfound flexibility, a smarter and more efficient working, the ability to build a professional image and, crucially, significant cost savings.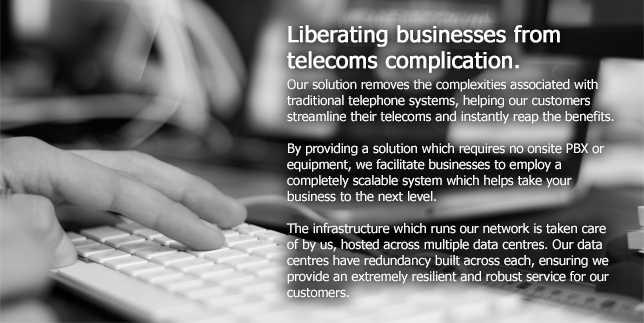 We are a UK limited company and have been profitable since year one. We have a positive balance sheet with no debt.
What's in a name?
Many people assume that we are based in Soho, London. In fact our name comes from a combination of the famous route 66 in the U.S.A. and the acronym Small Office Home Office.
The success of our customers
We maintain that our success is indivisibly linked with the success of our customers and strive to continually innovate and improve our service to that end. 
ITSPA Members

We are proud members of the ITSPA (Internet Telephony Services Providers' Association), the voice of the next generation communications industry and a UK membership-led organisation that represents companies who provide or resell business and residential customers voice services over data networks (VoIP).
You can find details on the ITSPA Code of Practice here.
Our Infrastructure
Many of our customers in their reviews of our service tell us that Soho66 does exactly what it says on the tin. That is, we provide a high quality and reliable business VoIP solution that simply works exactly as they expect it to – and we're one of the UK's leading providers for doing so.
Our growing customer base of tens of thousands of businesses, on top of the industry awards we continue to win and be nominated for each year, is testament to our quality and backed up behind the scenes with industry-leading infrastructure and resilience.
Our system architecture is as important to us as it is to you, so we wanted to let you know a bit more about it in order for you to fully grasp just how solid the Soho66 platform is.
We own and manage our entire network infrastructure
Our platform processes in excess of one million calls per week from tens of thousands of user accounts
We employ 24/7 platform monitoring over thousands of unique data points
We have our own IP address range which we operate over BGP (Border Gateway Protocol)
We have multiple data centres located across the UK and Ireland, each of which is load balanced and operates failover fault tolerance
We are fully-fledged RIPE NCC (Network Coordination Centre) members
Click here to read in greater detail all about our entire network infrastructure.
We support Tiny Lives

Who are Tiny Lives?
Tiny Lives is a charitable trust based at the Royal Victoria Infirmary in Newcastle upon Tyne. It supports the Newcastle Neonatal Service that cares for premature and sick babies from across the North East and Cumbria.
Providing staff training, research, equipment, staffing and family centred care, Tiny Lives cares for up to 34 babies at any one time thanks to more than 120 nurses and 30 doctors. In 2012/13, the unit cared for almost 700 babies including 209 who had been transferred to the RVI from other regional hospitals.
Tiny Lives is responsible for fundraising and awarding grants which aim to provide the highest quality of neonatal care for more than 800 babies each year. The trust provides a number of regularly funded items including developmental care aids and equipment, including a simulation baby training kit which mimics a newborn baby.
How do we help?
We make regular donations each month to Tiny Lives. We donate a fixed monthly sum which equates to £10 per each employee we have, while on top of this we donate a fixed sum of money per each customer review we receive on Trustpilot.
If you haven't already reviewed us via Trustpilot you can do so by visiting here. You should have received an order ID when you purchased services from us, however, if you can't find this simply enter 123456.
To read more information about our sponsorship of Tiny Lives and what they do, visit our parent company's website Pebbletree Ltd to find out more about the fantastic, hard work they do.
Correspondence and Registered Office Address
Pebbletree Limited ta Soho66,
Suite 1E,
Liberty Way,
Sunderland,
SR6 0QA
Company Registered information
PebbleTree Ltd is registered in the UK as registered company number 05587730.