Business VoIP
In this section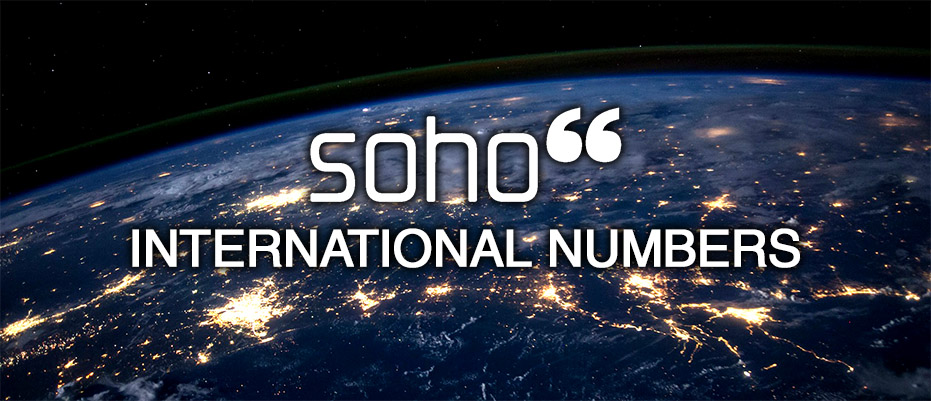 Do you have an international presence? Register an international number!
Operating a successful global business across different countries is a monumental task, especially when you consider the costs involved in setting up international offices. What if we told you that there is a way of managing all of this from your existing office?
With Soho66, you can register international numbers and make and receive calls for the comfort of your own office. All you need is a VoIP device connected to the Internet. This way you can soon be taking advantage of the benefits our award-winning service brings to the table, setting you on your way to a more cost-effective and flexible way of working.
We have numbers from 47 countries, ranging from USA, Spain, Germany, France, among many others:
| | | | | |
| --- | --- | --- | --- | --- |
| Argentina | Czech Republic | Hong Kong | Mexico | Slovakia |
| Australia | Denmark | Hungary | Netherlands | Slovenia |
| Austria | Dominican Republic | Israel | New Zealand | South Africa |
| Belgium | El Salvador | Italy | Panama | Spain |
| Brazil | Estonia | Japan | Peru | Sweden |
| Bulgaria | Finland | Kazakhstan | Poland | Switzerland |
| Canada | France | Latvia | Portugal | United States |
| Chile | Georgia | Lithuania | Romania |   |
| Croatia | Germany | Luxembourg | Russia |   |
| Cyprus | Greece | Malta | Singapore |   |
NOTE: Some numbers have special requirements in order to be registered, such as business and address details.
Costs
All international numbers are charged at £10+VAT per month, with an initial £10+VAT set-up fee. It is completely free to receive calls on your international number, and outbound rates are charged at the standard rate. See our call charges for more details.
The forms will ask you to fill in details such as the number(s) you wish to port, your current provider and details of where the line is currently installed at. We will also need to see proof of ownership of any number you wish to port, such as a bill or invoice from the provider you're moving away from.
The process usually takes around 2 weeks to complete, but it can be less depending on a number of factors. However, we will give you plenty of notice of the official porting date as soon as we get confirmation from your current provider.
Want to get the ball rolling?
To get things started just contact our support team. They will provide you with all the instructions you need to complete the process.
Email: support@soho66.co.uk
Tel: 03333 443 443