Soho66 'Highly Commended' at the 2014 ITSPA Awards.​​
We are proud to announce that Soho66 came away with two 'Highly Commended' prizes at this year's ITSPA Awards held in London.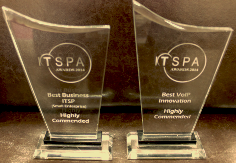 Soho66 claimed 'Highly Commended Best Business ITSP (Small Enterprise)' and 'Highly Commended Best VoIP Innovation' (for Quvu) at the illustrious Millbank Tower in London, overlooking the River Thames.
The ceremony was hosted by Dr Julian Huppert MP, Vice Chair of the Parliamentary Internet Communications and Technology Forum.
There were eight categories which made up the awards ceremony, of which Soho66 were shortlisted as finalists in three of them.
Entrants were required to complete written self-assessments which were independently reviewed by the ITSPA Awards judges, while third-party company Malden Electronics conducted technical testing for three of the awards categories ​– two of which Soho66 were named finalists in.
The testing involved scrutinising factors such as call quality, background interference, packet loss and jitter.
Find out more about the ITSPA here.