How can VoIP help you embrace flexible working?
Under new employment legislation workers have the right to request more flexibility in the way they work, which could increase the amount of people spending days working from home.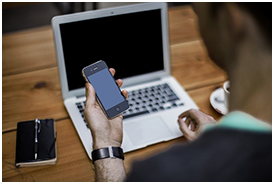 Working from home has already become commonplace for many of us, due to already having the tools and capabilities required to do your job – usually no more than a laptop and a phone – at home.
Small to medium sized businesses could reap the benefits of granting workers more flexibility, with employees being more motivated, committed and generally happier being citied among the possible benefits.
So if you're a business, how can VoIP ensure your employees remain connected with each other and the business in such circumstances?
No such thing as a fixed location
With VoIP there is no such thing as a fixed location. Once it has been set up, a phone can be moved to any location providing that location has an internet connection, and start receiving calls again once it's plugged in.
So if someone spends a large percentage of their day on the phone talking to customers, this needn't be affected by working from home. All they need do is unplug their phone and take it home with them and they will be able to carry out their duties as normal.
Simple call forwarding and routing
Why limit an incoming call to just one location? With a VoIP system you can easily set an incoming call to ring on multiple destinations at the same time, so if you have employees at work and home simultaneously, you might choose this so whoever is most ready to take a call can answer it first.
Alternatively you may want a call to ring on a particular number first, before ringing on another number if the call is not answered after a certain amount of seconds – this helps to reduce the chances of a call going completely unanswered.
You can even set incoming calls to ring on external landline or mobile numbers, meaning you aren't just limited to forwarding calls to a VoIP phone.
Mini telephone conferencing
If something vitally important comes up where you need to speak to more than one person, sometimes a group email is simply not urgent enough or practical enough to hold a meeting over. This is where 3-way calling can come to your rescue.
With this you are able to hold a mini telephone conference with two other parties, saving you the inconvenience of having to call one person before hanging up and calling the other; enabling the three of you to exchange ideas between each other quickly and efficiently without having to make multiple phone calls or relying on people checking their emails.
​