How could you use a VoIP system to your advantage this festive season?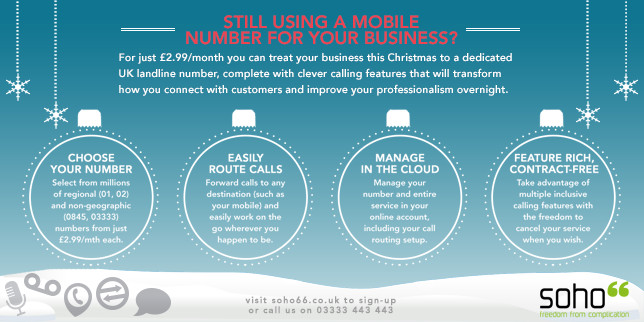 Most of us like taking time off at this time of year, but if you run a business it can be difficult juggling between wanting a break from the action after 12 months of hard work and simple needs must.
It can come down to a choice: stay at the office where you're available to customers during normal hours, or accept that if you want time off your customers are going to have to wait until you're back.
Fortunately there is VoIP, which at the price of a cup of coffee – £2.99 per month – there is a happy medium.
Take your office with you wherever you go
VoIP enables you to forward calls on to any other destination, and it's all easily configured in your online account with changes taking just minutes to come into effect.
So in the past (pre-VoIP) if you could only take calls at your office, you would be quite limited in terms of flexibility.
However, with VoIP you can easily set up calls to forward to your mobile or another landline, meaning calls to your business number will ring wherever you are and your customers won't even know the difference.
Multiple forwarding options
You aren't just limited to one forwarding destination either. Multi-routing capabilities allow you to forward an incoming call to multiple destinations, either one after the other or simultaneously.
This presents you with new opportunities for you and colleagues to work more flexible or on-call. You could divert an incoming call to multiple mobile phones, and wherever the call is picked up first it is connected.
Handle calls professionally
If a call can't be answered, for whatever reason, it would still be nice to handle it professionally so it reflects positively on your business image.
You could set up a personalised and/or professional voicemail greeting, after which you will be able to access the voicemail via your email account for added convenience. You can also take advantage of professional hold music, so if you have to put a customer on hold while you attempt to get in touch with a colleague, you can do so in a manner that is befitting to your business.
Configure Time of Day Routing
If you know that over the Christmas period you're going to work shorter days – let's say until 1pm for this example – take advantage of out of hours routing.
This allows you to automatically set up a call divert strategy that will automatically kick-in at 1pm, so after this time if you have left the office you can conveniently take calls on your mobile or any other destination you have configured calls to forward to.
For more information on the features and benefits of VoIP, visit our dedicated Features & Benefits section.
​