Soho66 nominated for two prestigious awards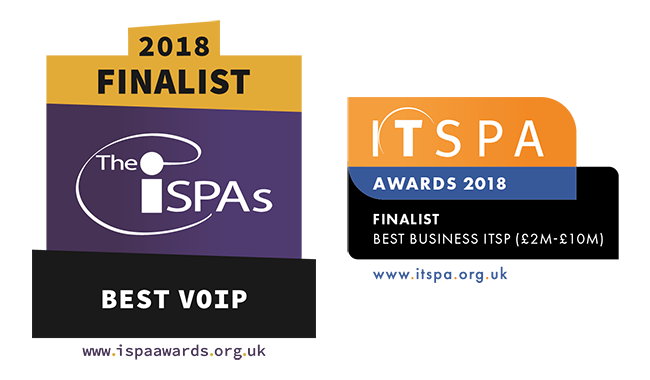 Soho66 has once again been nominated for two prestigious awards this year. The Internet Telephony Services Providers' Association (ITSPA) has nominated Soho66 as a finalist for the Best Business ITSP (£2m-£10m) category, while the Internet Services Providers' Association has nominated Soho66 as a finalist for the Best VoIP category.
ITSPA Best Business ITSP (£2m-£10m) Award
The ITSPA is the UK VoIP trade association that represents companies who provide or resell business and residential customers voice services over data networks. Since it's creation in 2004, the ITSPA Awards have been a permanent fixture on the industry calendar. Soho66 has been nominated for this award for the last 6 years, including a win in 2015 against strong competition.
In the last 12 months, Soho66 has undergone a period of technical modifications to the underlying system which should prove to be beneficial to customers, including the production of a new proxy and general improvements.
All finalists are subjected to a period of technical testing of the service as well as an evaluation of a detailed written entry which covers numerous aspects of the business, such as business performance, customer service, innovations and testimonials. The award is given by an independent panel of industry experts.
ISPA Best VoIP Award
The ISPA is the UK's trade association for Internet services and brings together the UK internet industry to provide essential support through innovation, knowledge and experience. Established in 1995, the ISPA has promoted competition, innovation, self-regulation and positive development of the Internet industry. The ISPA Awards have been a staple of the Internet industry since 1999, promoting companies that make the Internet a safer and more secure place for customers.
Similar to the ITSPA, all finalists are judged by an independent panel, and are subjected to technical testing and a written entry detailing why they deserve the award. Soho66, along with 5 other VoIP companies, has been selected as finalist for the award. This will be the 5th time in succession that Soho66 has been named finalist for the award, last winning in 2014.
When are the award ceremonies
The ITSPA Award ceremony takes place on 24th May 2018 in London. Meanwhile, the ISPA Award ceremony takes place on 12th July 2018 in Manchester.
Want more information?
Contact Support for more information on any of the features highlighted in this article.
Tel:

03333 443 443

Email:

support@soho66.co.uk