Soho66 nominated for the ITSPA Best SOHO ITSP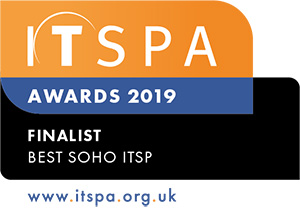 Soho66 has once again been nominated for an ITSPA (Internet Telephony Services Providers' Association) award this year. ITSPA has nominated Soho66 as a finalist for the Best SOHO ITSP category.
ITSPA Best SOHO ITSP Award
The ITSPA is the UK VoIP trade association that represents companies who provide or resell business and residential customers voice services over data networks. The ITSPA Awards have been a permanent fixture on the industry calendar since its creation in 2004. This will be the 7th year in a row that Soho66 have been nominated for an ITSPA award, showcasing our commitment to delivering quality VoIP services.
Throughout the last 12 months, the Soho66 team have been improving our network behind the scenes, offering an unrivalled VoIP service that now operates throughout multiple data centres across the country, giving our platform the additional speed and resiliency to operate our ever-growing platform.
In addition, we have an industry leading technical support team, on hand to help our customers with their queries and problems via phone or email. It is largely to this credit that we continue to possess an 'Excellent' rating on Trustpilot.
All finalists are subjected to an evaluation of a detailed written entry which covers numerous aspects of the business, such as business performance, customer service, innovations and testimonials. The award is given by an independent panel of industry experts.
The ITSPA awards ceremony takes place at Glaziers Hall in London on Wednesday 1st May 2019.
Want more information?
Contact Support for more information on any of the features highlighted in this article.
Tel:

03333 443 443

Email:

support@soho66.co.uk