Soho66 once again nominated for two ISPA awards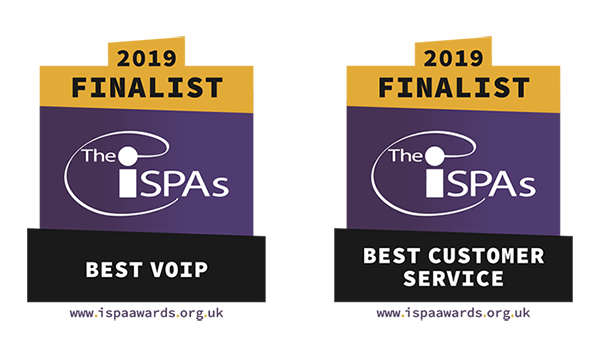 For the sixth year running, Soho66 can proudly boast an ISPA (Internet Services Providers' Association) award nomination. And this year we have two! Soho66 has been nominated for the awards of Best VoIP 2019 and Best Customer Service 2019.
The ISPA
The ISPA is the UK's trade association for Internet Services and brings together all aspects of the UK Internet industry to provide essential support through innovation, knowledge and experience. Since 1995, the ISPA has successfully promoted competition, innovation, self-regulation and the positive development of the Internet industry. In addition, the ISPA Awards have been a staple of the Internet industry since 1999, promoting companies that make the Internet a safer and more secure place for customers.
ISPA Best VoIP 2019
Soho66 has once again been nominated by the ISPA for the award of Best VoIP. This is the sixth year in a row that Soho66 have been nominated for the award, winning it in 2016.
In the past year, Soho66 has released a new proxy platform that greatly improves our infrastructure and the level of service and resilience we are able to offer. New protocols and processes have been established which has led to a more refined approach to our development as a company. A new approach to Sales has also been implemented, offering customers specific packages that are catered exclusively to their needs on a contractual business.
The other nominees include Gamma, Gradwell Communications, Network Telecom, Voipfone and Ziron.
ISPA Best Customer Service 2019
For the first time since 2014, Soho66 have been nominated by the ISPA for the award of Best Customer Service.
Since day one, Soho66 has been committed to providing the best customer service possible to customers old and new. We acknowledge the importance of keeping customers happy as they are the foundation of our success. This year we have contracted new trained staff to deal with our ever-growing customer base as well as created the new role of Technical Support Specialist, designed to manage support queries that require escalating to our development team.
The other nominees include Catalyst2, EE, Hyperoptic, PCCW Golbal and Zen Internet.
When are the award ceremonies
The ISPA Awards ceremony takes place on 11th July 2019 in London.
Want more information?
Contact Support for more information on any of the features highlighted in this article.
Tel:

03333 443 443

Email:

support@soho66.co.uk