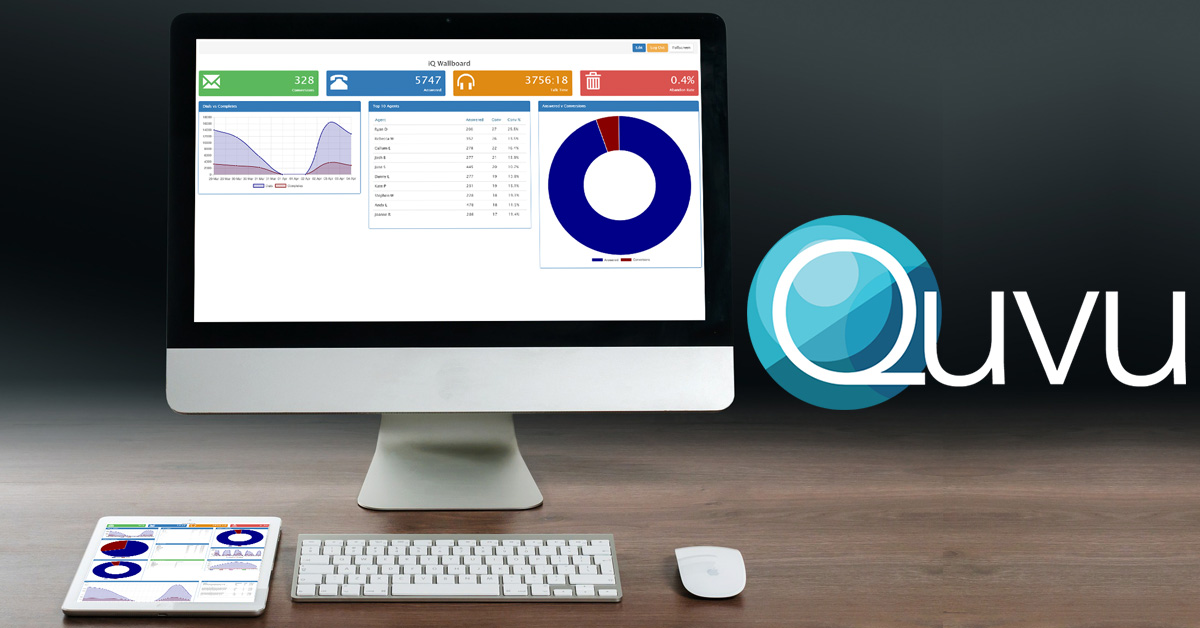 Having the ability to manage our team from any location, not just countrywide but also worldwide, is made easy today thanks to Quvu, our cloud-based contact centre management solution.
Seeing as you'll probably be working from home for the foreseeable future, you'll need a solution that works remotely, has all the features you require to monitor and train agents and is easy and quick to setup.
With no specialist hardware required, Quvu allows you to get started quickly and begin to reap the benefits for all of your inbound and outbound needs. You'll be able to access real-time campaign statistics, listen to live calls and past recordings, allow the predictive dialler to boost agent contact rates and drive productivity. All within a click of a button, from any computer, anywhere in the world.
How we're using Quvu
We've been using Quvu for a number of years, which shouldn't come as a surprise as it's our own product! We've been preaching the "work from home" capabilities of Quvu for a long time and now is the time for us to make use of the service in a way that many customers already do! We've asked some of our staff how they're managing they're teams remotely in the current climate.
Stephen Lloyd – UK Operations Manager
Stephen is our Operations Manager, managing our Tech Support team and providing advice for the rest of the team on any topics that need his attention. Normally, the team would all be located in the same office working together, but obviously this is currently not possible. This is a time where the Quvu supervisor console really comes into play:
"Working from home means I can't 'see' what team members are doing as I normally would in the office. Instead, I use the Quvu supervisor screen much more now than I did previously. The supervisor console allows me to see who is logged in, who is on a call, who is on a break and so on."
Monitoring his agents is necessary to ensure call levels are being met, but that's not all. To ensure quality assurance, he also has the ability to silently listen into his agent's calls:
"Working from home brings an additional challenge as I can no longer listen out for calls in our office where my agents may need some help or training. However, directly from the supervisor console, I'm able to listen into any call via the "live call monitoring" option. Between intermittent monitoring of calls and messages from my agents when they need some help, I can continue to ensure the support calls run smoothly. Additionally, I can listen to previous calls from the call history page if necessary"
Quvu also provides in-depth stats to help discover the amount of calls that the team are taking, and in some cases of what type:
"Statistics reporting allows me to see whether call volumes are increasing and by how much, as well calls by agent, what type of calls are being received and so on. Disposition buttons for each incoming call are used to tag what type of call came in, whether that be a technical issue, an accounts issue or a sales lead.".
Stephanie Longhorn – Brand Operations Manager
Stephanie is in charge of the Virtual Receptionist team and manages the day to day operations of the team. In normal circumstances, operating without Quvu would make things very difficult, so given the current climate, it's needed more now than ever. Stephanie is able to monitor her agents the same way as the Operations manager does, however as the Virtual Receptionist team deal with a higher volume of calls, with more agents to manage, she makes use of the admin console and some of the additional inclusive features:
"It's important to recognise the difficult situation we're all currently living through by working exclusively from home for the foreseeable future, to that end I've created a report in the admin console that allows me to correctly monitor how long the agents are logged in each day, to ensure they are working the full shift."
Not to be outdone, Stephanie also uses the supervisor console to its full extent:
"I'm now constantly logged into the supervisor console to ensure all members of staff are in the correct 'ready' or 'not ready' state. From there I can also monitor the agents as and when needed as well as provide feedback should it be necessary. Call stats are checked daily to see if this is increasing or decreasing."
As the team is accustomed to sharing the same office space, it has brought a number of unfamiliar challenges which the team are having to navigate through:
"We do daily conference calls between members of staff to keep morale up in the team and there is time to have a chat to keep things as normal as they can be. The team have also been given extra breaks throughout the day; using the supervisor console I can check that these are being taken correctly."
Want to get the ball rolling?
To get things started just contact our support team. They will provide you with all the instructions you need to complete the process, along with the required porting forms.
Email: support@soho66.co.uk
Tel: 03333 443 443