Forwarding to a Mobile or Landline
Firstly, you'll need to make sure that you have credit available on your account. Call forwarding to a UK mobile number costs 8.5p per minute, and to a UK Landline is 1p per minute. Alternatively, sign up to pay by Direct Debit via your Control Panel.
Log into your Soho66 account, and select "Your Numbers". From here, click on the number that you would like to set to forward to – either your landline or mobile phone.
Step 1: Setting up the divert
If you look on the right hand side of the screen, you will see the 'Routing Wizard' button. Click on this to open the routing steps menu.

From the drop down list, select 'Send the call to one or more internal/external destinations' as shown in the below image. 

Step 2: Entering the numbers you want to forward to
We now need to enter the numbers to divert to. Each FULL number needs to be on its own individual line, so for example you could put a mobile number on the FIRST line and a landline number on the SECOND line as shown below.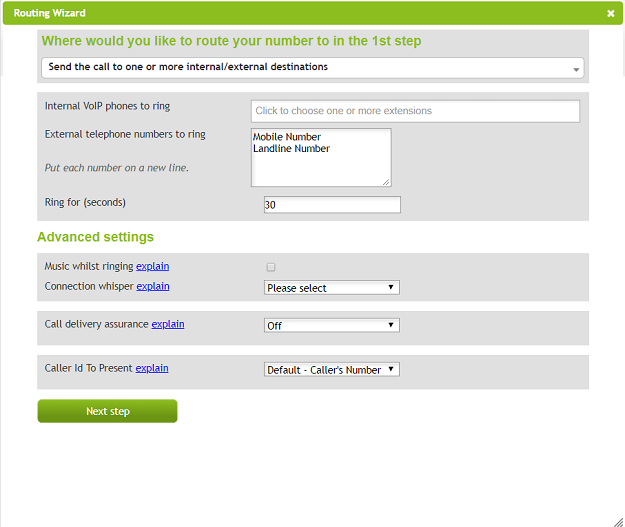 Additionally, there are some Advanced Settings that may interest you:
Music Whilst Ringing. If you'd like your caller to hear music instead of ringing while the call is waiting to be answered then select this option.
Connection Whisper. This can be used to determine which line the call is coming in on. When you answer a call, our system will play back the specified audio file to you immediately after you answer the call.
Call Delivery Assurance. This will detect and avoid the call being answered by an answering machine on the forwarded number. To answer calls, simply press 1 on your keypad when you hear the prompt
Caller ID To Present. The number presented when forwarding the call to you can be substituted with one of the numbers on your account.
Step 3: Finishing off and Adding Call Credit
Once you have entered the numbers you wish to divert to, you can either finish the call by going to voicemail or just hang the call up.