Business VoIP
In this section
VoIP means you no longer have to make use of the public switched telephone network (PSTN) to make calls. Instead of voice signals being transmitted over a circuit switched network, the signals are converted into digital data packets and transmitted as IP packets over the internet.
What this means to you is that you no longer need a separate phone line in addition to your internet line – simply use your internet connection to do both.
You get the added bonus of eliminating onsite hardware as this is completely taken care of by the VoIP provider, who host it all for you in secure data centres. This means the costly burden of maintenance, repairs and upgrades are taken out of your responsibility.
As a result, any set-up or installation fees and ongoing maintenance costs are removed – while access to new features and improvements are instantly available to you as they're released.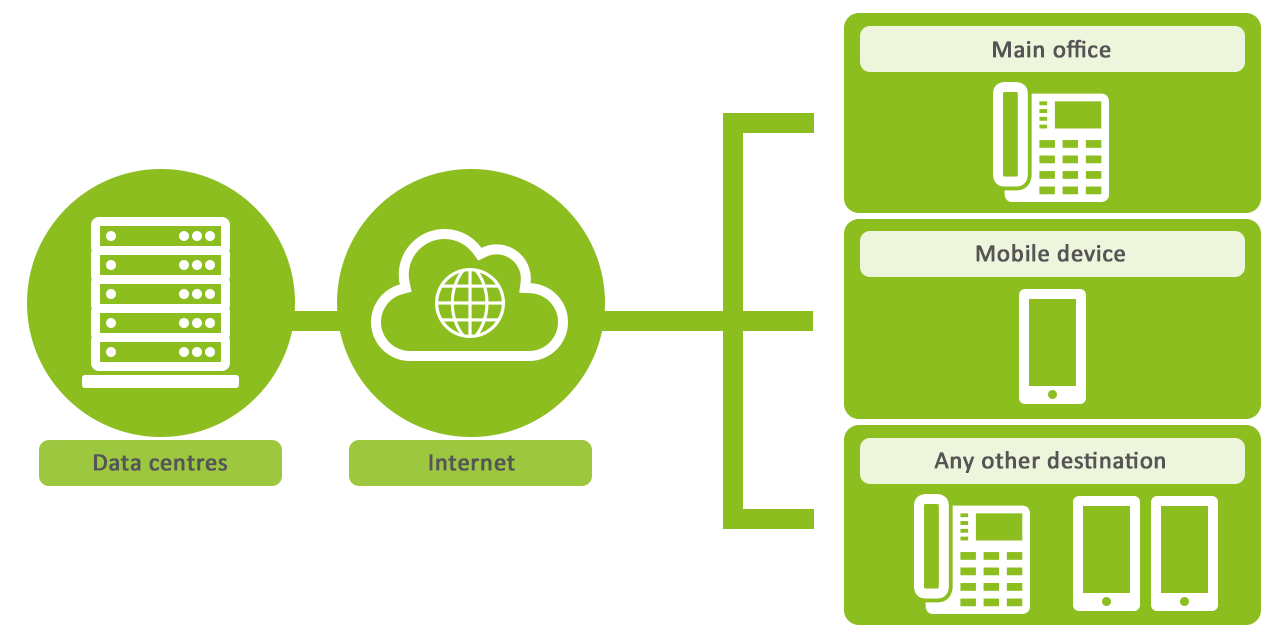 What equipment do I need to use VoIP?
This depends how you want to use the service, but ordinarily, all you need is a broadband connection. However, you don't even need this if you simply want to buy a number to forward calls another destination (your mobile or landline).
To make full use of the service, the only equipment you need other than the internet depends on whether you want to use a VoIP phone handset to make and receive calls, or a software phone ('softphone') installed on your laptop, PC or Mac.
How can I make calls?
The easiest, most common and most highly recommended way customers do this is the same as you would using a traditional landline phone – pick up your handset and dial from the keypad, but using a VoIP phone. Alternatively, you can download a free softphone on your laptop, PC or Mac and use the simple interface on your screen to make calls, ideally through a headset for best results.
Another option is to install a smartphone app on your mobile device, and link it to your VoIP account. Making calls this way will mean you can gain the flexibility to ring people from anywhere, whilst benefiting from the low-cost call charges VoIP offers.
How can I receive calls?
Just like when making calls, there are a number of different ways you can receive them. For general office use and to get the most out of the service a VoIP phone handset is the most common and recommended. Using the multitude of call forwarding options available, you can also divert calls to another landline or mobile and pick up the call wherever you are.
You can also take calls via your laptop, PC or Mac by using a free softphone – but bear in mind when your machine is turned off your softphone won't receive calls. You may also be able to convert your existing, non-VoIP phone using a VoIP converter.
Can I only ring other phones that are running through VoIP?
Absolutely not, you can ring anyone regardless of whether the person you're calling is using a traditional landline, a mobile or a VoIP system themselves. Such is the level of call quality using VoIP, your customers won't know the difference from an ordinary landline.
My business already has a number. Can I still use VoIP but keep it?
Yes, in most cases you can certainly port any existing number(s) from your current provider. You will be required to complete a couple of simple forms confirming things like the number(s) you wish to port, the existing provider and proof of ownership to get the ball rolling. The process will then be completed within around 2 weeks. More information can be found here.